Episode 32: Episode 32: Evaluation Games With Friends
2 years ago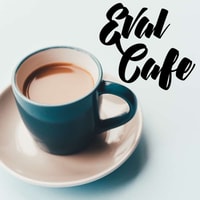 In this episode of Eval Cafe (one of only two places where evaluators really get crunk, according to guest Andy Johnson, with the other being the Diversity TiG social at the annual AEA conference), come hang out with our super panel of returning guests—Andy Johnson and Nora Murphy Johnson (Inspire to Change), and Chris Corrigan (Harvest Moon Consulting) as we expand chronos and play infinite games in kairos. We start by jumping into the question, "What does evaluation offer and what does evaluation need in times of great uncertainty and injustice?", and follow that thread through a conversation about how evaluation delivers uncertainty instead of certainty, why arts-based evaluation exists (aside from being the coolest evaluation), evaluators as accompanists and 'friends of the process', Nora's outline of her theory of transformation (plus one addition from Chris), exoskeletons, endoskeletons, why evaluation needs imagination to be rigorous, spaciousness, how to play in complexity, and how interesting it is how many problems can be solved in exactly the three years of a granting cycle.
Full show notes available at our website.
Find out more at https://eval-cafe.pinecast.co
This podcast is powered by Pinecast.